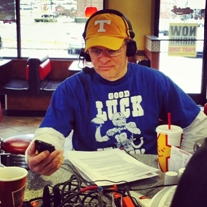 FREE THOUGHT FRIDAY
COACH CLASSIFICATIONS:
CBS recently revealed their third annual Power-5 Coaches Rankings (+Brian Kelly) in which Butch Jones tumbled almost 20 spots from 2016 (from 33 to 52). While believing that's excessive it shows how the disappointment of the 2016 Tennessee Football season -exacerbated by Jones's ridiculous corresponding sound bites- have soured the National pundits view on the quality of coach currently heading the Vol program.
In my mind, there are 15 established Power-5 Head Coaches that are clearly better than Butch and a handful of rising stars that I would prefer over him as well due to their high ceiling. Aside from that I think there are just a bunch of guys that are pretty good coaches whose appeal is determined by their latest season.
Here is how I would categorize the same 65 coaches that CBS ranked.
TOP-15
GENERATIONAL:
1-NICK SABAN-Alabama
2-URBAN MEYER-Ohio State
NEXT LEVEL
3-JIM HARBAUGH-Michigan
4-CHRIS PETERSEN-Washington
5-DABO SWINNEY-Clemson
6-JIMBO FISHER-Florida St
7-DAVID SHAW-Stanford
8-GARY PATTERSON-TCU
9- MARK DANTONIO-Michigan State
10-BOB STOOPS-Oklahoma
11-BOBBY PETRINO-Louisville
12-BILL SNYDER-Kansas State
13-MIKE GUNDY-Oklahoma State
14- BRIAN KELLY-Notre Dame
15-JAMES FRANKLIN-Penn St

RISING STARS (3):
JUSTIN FUENTE-Va Tech; PAUL CHRYST-Wisconsin; MATT RUHLE-Baylor
POTENTIAL STARS BUT NOT ENOUGH RESUME (3):
TOM HERMAN-Texas; PJ FLECK-Minnesota; CLAY HELTON-USC

PRETTY GOOD BUT WHAT'S NEXT (33)?

TRENDING UP (11):
WILLIE TAGGART-Oregon; PAT NARDUZZI-Pitt; GUS MALZAHN-Aub; MIKE MACINTYRE-Colorado; WILL MUSCHAMP- S Carolina; MIKE LEACH-Wash St; DANA HOLGERSON-WVU; DINO BABERS-Syracuse MARK STOOPS-Kentucky; DEREK MASON-Vandy; DAVE CLAWSON-Wake Forest
STAYING STEADY (8):
JIM McELWAIN-Fla; KYLE WINNINGHAM-Utah; LARRY FEDORA-UNC; BRONCO MENDENHALL-Va; MARK RICHT-Miami; PAUL JOHNSON-Ga Tech; DAVID CUTCLIFFE-Duke; STEVE ADDAZIO-BC
TRENDING DOWN (14):
BUTCH JONES-Tenn BRETT BIELEMA-Ark; DAN MULLEN-Miss St; HUGH FREEZE-Ole Miss; KEVIN SUMLIN-Texas A&M; PAT FITZGERALD-N'Wesern; JIM MORA-UCLA; GARY ANDERSEN-Oreg St; MIKE RILEY-Nebraska; RICH RODRIGUEZ-Arizona; TODD GRAHAM-Arizona St; KIRK FERENTZ-Iowa; KLIFF KINGSBURY-Texas Tech; DAVE DOEREN-NC St
WHO KNOWS? (11)
KIRBY SMART-Georgia; CHRIS ASH-Rutgers; JUSTIN WILCOX-Cal; TOM ALLEN-Indiana; BARRY ODOM-Missouri; DAVID BEATTY-Kansas; MATT CAMPBELL-Iowa State; DJ DURKIN-Maryland; LOVIE SMITH-Illinois; ED ORGERON-LSU; JEFF BROHM-Purdue
OBSERVATIONS:
-If I take into consideration age, baggage and lack of Power-5 resume there are probably only 10 current sitting head coaches that would truly excite me if they were named the Vols coach tomorrow.

-Of the 14 I ranked in the Pretty Good but Trending Down category 5 are from the SEC. I don't know if that's fair or I simply see their warts up-close and personal.

-Of the 4 SEC coaches I ranked in the Pretty Good but Trending Up Gus Malzahn is the only one I would even consider for our job. I would be physically ill thinking of any of the other three roaming our sideline.

-Of my Top-15 Nick Saban is the lone SEC representative. I have 4 from the Big 10 (Meyer, Harbaugh, Dantonio, Franklin); 4 from the Big-12 (Patterson, Stoops, Snyder, Gundy); 3 from the ACC (Swinney, Fisher, Petrino); 2 from the PAC-12 (Petersen, Shaw) and 1 Independent (Kelly)
THE VOL FOOTBALL PROGRAM I HAVE KNOWN
Recently there has been some banter about what is fair to expect from Tennessee's Football Program. Below I have compiled what the Vols have been -statistically speaking- in my 52 years of closely following their exploits. I will let the numbers speak for themselves with a few observations at the end.
YEARS
1965-2016 =
52 Seasons
COACHES (7)
Doug Dickey 1964-69 (6 Seasons)
Bill Battle 1970-76 (7 Seasons)
John Majors 1977-92 (15+ Seasons)
Phillip Fulmer 1992-2008 (16+ Seasons)
Lane Kiffin 2009 (1 Season)
Derrick Dooley 2010-12 (3 Seasons)
Butch Jones 2013-Present (4 Seasons)
8 Season Average Tenure (Excluding Jones)
WINS
419 Wins in 52 Seasons =
8.0 Wins/Year
BOWLS
41 Bowl Appearances =
8 Bowl Appearances/Decade
(Non-Bowl Seasons: 1975-78, 80, 88, 2005, 08, 11-13)
24 Bowl Wins =
4-5 Bowl Wins/Decade
SEC CHAMPIONSHIPS
1967, 1969 (Doug Dickey)
1985, 1989, 1990 (John Majors)
1997, 1998 (Phillip Fulmer)
Two Long Championship Droughts
1970-84 (15 Seasons)
1999-16 (18 Seasons)
1 SEC Championship/7 Seasons
SEC CHAMPIONSHIP GAME APPEARANCES
1997, 98, 2001, 2004, 2007 =
5 Appearances in 25 Seasons = 1/ 5 Seasons
OBSERVATIONS:
-With the expansion of the league and the advent of the SEC Championship Game the league title is harder to win today than at any time in my years of fandom so I'm not sure how the 1 championship every 7 seasons relates.

-Since a large portion of the above numbers were compiled in the era of the 11-game season -and the 12th game is almost always played against a walkover opponent- the new average win season for Tennessee should be 9 not 8.

WHAT DOES THIS HAVE TO DO WITH BUTCH JONES?
A segment of the fanbase -and local media- have implied that a large portion of Vol faithful have been unreasonable in their criticism of Butch Jones and unappreciative of his accomplishments. What the numbers above show is though Jones has aided Tennessee in rising from the ashes of one it's most dreadful periods he has done nothing truly
special
. As a matter of fact, his
best
season -to date- would be considered the bare minimum
expected
of Tennessee's coach in the last half-century. What Butch Jones has done as the Vols coach so far is certainly not a fireable offense. It also however -according to the numbers- doesn't stimulate any great confidence in the future of the program or merit effuse praise.
FANTASY FAUX PAS
If there is anything at this time of year that provides weekly comedic material it is my fantasy baseball management. Until that changes, I will provide fantasy foolishness of the week.
-While my team was awful last week by any measure the black cloud of bad fortune that follows my fantasy baseball team was once again evident. Billy Hamilton -he of
"if I could only steal first I would be a hell of a player"
fame decided the week I was his opponent to become the greatest all-around player since Willie Mays. Bashing Billy scored an unheard of 59 points. His week's line was
11-31, 2 2B, 3 3B, HR, 8 RBI, 11 R, 9 SB, & 4 BB,
Only against me folks; only against me.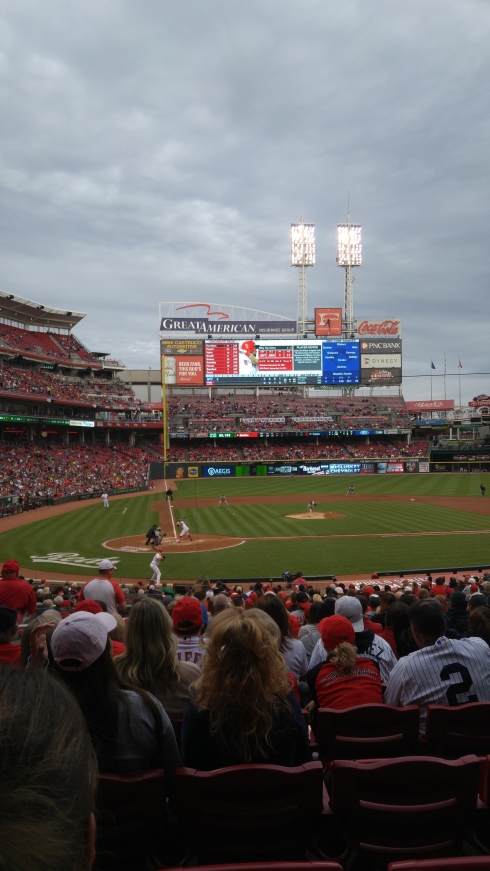 IN THE QUEEN CITY:
On a whim, I decided that I would dash to Cincinnati to see the Yankees and Reds play earlier this week. I had intended to see only the Tuesday evening game but a threatening weather forecast -and a miserable experience of having the Reds cancel a game on a previous trip when not a drop of rain occurred after 4pm- scared me into grabbing a room and ticket for Monday's contest as well. I'm certainly glad I did. The Yankees, though exhausted after the 18-inning affair with the Cubs -where Aroldis Chapman's blown save cost everyone three hours' sleep- ignored their 6am arrival time and pounded out 13 hits and scored 10 runs.
The Reds returned the favor making the most of a 3rd-inning uprising against C.C. Sabathia on Tuesday scoring 5 runs in the frame and holding on to win 5-3. While the Yank's bats were not slumbering their defense and baserunning suggested they were making up for sleep-deprivation with a few catnaps as the game was going on.
All-in-all it was a fun up-and-back, the weather was just fine, Reds fans were gracious hosts and there were no travel difficulties. I may be advancing in age but nothing makes me feel like a kid again more than going to the ballpark. It is, was, and always will be a blessing to do so.

JURASSIC SOFTBALL BREAK:
Going to take a week off (possibly two) from blogging for upcoming Old-Man Softball Tournaments in Auburn, Alabama and possibly Dalton, Georgia. I'll see if I can avoid getting hit in the head with a 100+ mph laser so I at least have a miniscule chance of coming up with some smart pills for my next effort. Enjoy your weekend and as usual thanks for taking time out of your busy day to read my gibberish.
FINAL FRIDAY THOUGHT: Tell your Mom how much you love and appreciate her.

R.I.P Faye Henderson (Oct 12, 1926-May 9 2013) I miss you and use something you taught me every day. I appreciate all you did for Ron, Mike and I, and I love you very much.