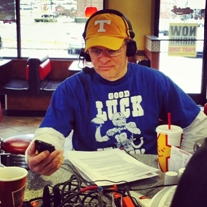 FREE THOUGHT FRIDAY

GOOD TO BE BACK:
After an extended break to reset the mechanism the Bean—blog is back and ready to roll. Not sure how many smart pills I'll be dispensing and we'll take a few one-week spring and summer breaks so there's enough information available to fill the space but I appreciate your understanding and it's good to be back
FINAL TAKE ON SPRING PRACTICE:
I've always contended that spring practice -regardless of the institution conducting it- is all about young players and coaches with little to gain for veterans or fans. Almost nothing of substance emerges to give you a true feel for what is to come in the fall. That aside it does give football fanatics a tofu-like appetizer and if I dig front-end loader deep here is what I drew:
I was encouraged:
-that both Shy Tuttle and Khalid McKenzie were more involved than I thought they would be.
-that Marquez Calloway and Latrell Williams could both become playmakers along with Jauan Jennings and Tyler Byrd
-that I believe we can win with either Quinten Dormady or Jarrett Guarantano
-that our secondary play will be vastly improved due to the upgrade of Charlton Warren over Willie Martinez, news that Justin Martin is fully-involved, Nigel Warrior will be utilized and the addition of graduate transfer Shaq Wiggins.
I am worried
-that we still have too many injury concerns even if most are of the precautionary nature
-about RB depth, John Kelly if healthy is the real deal but who can help him carry the load? I'm not sure Carlin Fils aime can "Fils" the bill which means one or more of true freshmen Ty Chandler, Trae Coleman or Tim Jordan must play major roles in the running game.
TENNESSEE BASEBALL:
After a closely contested series in College Station where the Vols were able to salvage only the last game of the series in extra innings the league record stands at 5-13. With a three-game lead on putrid Alabama and trailing Missouri by three games for 11th place the only thing remaining is a
scintillating
race with Georgia (5-13) for the last spot in Hoover.
If you want to know how the Vols are once again among the bottles of fine wine maybe this will help; the Vols in SEC Play are 11th in the league in both hitting and pitching with a .243 BA and 4.84 ERA. What may have bolstered their pitching beyond what we're accustomed to this past weekend in College Station is Texas A&M is 12th in the league hitting a chilly .239. The Vols lack of pop is embarrassing as well being the only team in league play with less than 20 doubles (19) and with single-digit homers with a paltry 6. For those of you scoring at home that equals an average of only 3 doubles and 1 HR per SEC series.
Fab-5 Freddy added this gem to the above abominations. With 4 of the Vols 5 wins coming in extra innings, Serrano's Vols have led at the end of 9 innings once all season in league play (6-5 over Georgia on March 31).
WHY NOT HERE?
I understand that the Vol Baseball program has enjoyed little or no success in my lifetime with the exception of portions of Rod Delmonico's tenure in Knoxville. I'm still puzzled however that the administration has never tapped into the potential to make an SEC baseball weekend an event that fans can turn into a weekend party regardless of the product in the field. A much more astute SEC baseball fan than I told me that Ole Miss Head Baseball Coach Mike Bianco made the point the reason Rebel baseball is special is because they
"bring the game to The Grove"
SEC fans know how to have a party around their favorite sporting events. Go to any campus in the South on a fall Saturday and it's a festive, fun atmosphere. Tailgating is an art form. What I wonder is why can't that happen here? Maybe the weather isn't as conducive in the early portion of the SEC schedule as it is at the southernmost schools in the league but we're only talking a matter of weeks.
Having a quality product on the field would certainly be a huge step but it will take more than that. The powers that be must be committed to taking the necessary steps to make Vol baseball an event with enjoyable, festive surroundings regardless of the outcome of 27 inning of weekend play.

MLB TIDBITS:
As we near the end of the first month of the regular season Major League Baseball appears poised to be as unpredictable as ever:
-If the Yankees continue to get solid outings from both Michael Pineda and Luis Severino they will be much better than even the most optimistic pinstripe pundit could have hoped for.
-Toronto and Kansas City on the other hand look like a couple of franchises whose rosters will be unrecognizable to their fans by this time next season.
-As April comes to an end there are the usual surprise teams sitting on a high perch whose branch is almost sure to break by shortly after Memorial Day. Those that should be bracing to bungee jump without a cord are the White Sox, Colorado and Arizona.
-The flap over Manny Machado's "questionable slide" is all that's wrong with modern day MLB. First there was nothing wrong with the slide but middle infielders have become such a protected species that they no longer can get out of the way if they try. Then Red Sox scrub reliever Matt Barnes decided to throw behind Machado's head two days after the event initially occurred. This was so ridiculous that Dustin Pedroia felt moved to let Machado know he had nothing to do with it basically caught on camera throwing his teammates under the bus. All of this wreaks of soccer mom, juice box nonsense.
-Recalled from a mental health break in the Korean League Milwaukee's Eric Thames (.370, 11, 19) looks like he somehow became Babe Ruth while in Asia. The Reds will certainly be happy when he cools down as he has slugged 8 of his 11 HRs vs Cincinnati.
-Bryce Harper (.432, 7 32) is quickly putting his disappointing 2016 season in the rearview and once again looks like a player others will be salivating over upon reaching free agency.
-Mike Trout (.337, 6, 15, .904 slugging % 5 SB) continues to be a great player that most of us don't get to see play near enough to suit me. I really wish the Angels would trade him to someone playing in the eastern or Central time zones. If it's not the Yankees however I don't want him in the AL East.
-Colorado's Charlie Blackmon (.287, 7, 21) may be the most underrated player in all of baseball.
-Dallas Keuchel (4-0, 1.22; 27 K, 9 BB) -like Harper- is back to 2015 form.
-34-year-old Ervin Santana (4-0, 0.77, 26, 10) continues to agelessly anchor the Twins staff
FINAL FRIDAY THOUGHT: Nothing is tougher than watching a loved one spend their last hours of life. The rewards of being with them at this crucial juncture eventually become apparent but it's hard to fathom at the time. Please continue to pray for strength and comfort for Tony and the Basilio family at this difficult time.

We love you Tony and though we feel helpless to provide the assistance needed please know we are here for you and thinking of you often. God bless you and your family.