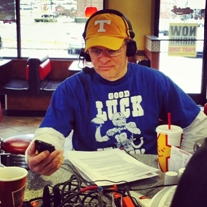 FREE THOUGHT FRIDAY
TOURNEY TIDBITS:
As usual the tournament had no shortage of drama and gave us a wonderful weekend of entertainment.
-If seeding is your measurement there were very few surprises in the round of 64. Only five lower seeds won in the first round and amazingly three of those were 11 seeds (Rhode Island, USC, Xavier). The other ďupsetsĒ came from 12 seed MTSU and 10 seed Wichita State. Vegas wasnít buying the Shockersí seed making them a 1-pt favorite over 7-seed Dayton
-Seth Davis -in ridiculous fashion- selected Wichita State as his ďunderdog lock of the dayĒ prior to their win over Dayton. The only problem with that as mentioned above is they were the favorite. Gutsy pick there Seth.
-Heading into the Sweet-16 here are some conference records of interest: ACC-
7-8
; Big-12
8-3
; Big East
5-5
; Big-10
8-4
; PAC-12
8-1
; SEC
7-2
-Conference representation in the Sweet-16 went as follows:
ACC
-1 (UNC);
Big-12
-3 (Baylor, WVU, Kansas);
Big East
-2 (Xavier, Butler);
Big-10
-3 (Wisconsin, Purdue, Michigan),
PAC-12
-3 (Arizona, Oregon, UCLA);
SEC
-3 (Florida, S Carolina, Kentucky)
West Coast
-1 (Gonzaga)
-I thought Michigan may have expended all of their emotional capital last week but I was wrong. The Wolverines had opportunities to say
ďthatís enoughĒ
against both Oklahoma State and Louisville but came from behind to win both games and keep one of the great feel-good stories alive.
-In a year when Iíve had even less of a clue than usual of how the tournament would go my premonition that Villanova would be the first 1-seed eliminated proved correct. I will readily admit I didnít expect it to happen during the first weekend.
-It has to be immensely satisfying to be a fan of Xavier or Butler basketball. Those two programs rarely fail to deliver and squeeze every drop out of their talent and opportunities.
-Shortly after their loss to Michigan, Oklahoma State got Kiffined as Brad Underwood shockingly departed Stillwater after one season for the Illinois job. Regardless of the sport Tennessee fans can testify to Cowboy faithful that three coaches in three years is not a recipe for success.
RANKING THE SWEET-16 MATCHUPS:
It goes without saying that once the tournament reaches the Sweet-16 there are no bad games. That doesnít suggest however that they are all created equal. Hereís one manís opinion on how they rank from least to most compelling:

8-BAYLOR vs SOUTH CAROLINA:
Absolutely love that the Gamecocks did most of the free world a favor by jettisoning Duke and will be pulling for their Cinderella journey to continue. But I canít say I enjoy watching Frank Martinís teams ugly up play many times on both ends of the court.
7-WISCONSIN vs FLORIDA:
Maybe Iím just tired of watching SEC teams in action and both the Gamecocks and Gators have landed too low in these rankings. The truth is Wisconsin bores me to tears regardless of the sport and I simply despise any squad representing UF.
6-OREGON vs MICHIGAN:
This would be a great Rose Bowl but for some reason I canít get terribly excited about their meeting on the hardwood. The Michigan storyline is impossible to top but even that drama canít make me like the Wolverines. Besides, Oregon and Baylor have no business both being in the Sweet-16. Itís like watching the same team play twice.
5-KANSAS vs PURDUE:
This one has star power with Frank Mason III and Caleb Swanigan and pits traditionally strong programs but for some reason Iím not as drawn to it as the four to follow.
4-GONZAGA vs WVU:
I grew to respect WVU athletics -and their fan base- while spending a great deal of time there in the early 2000s but Gonzaga is my sentimental favorite in this yearís tourney. The Bulldogs have been to 7 Sweet-16s and played in 2 Regional Finals but have never made the Final-4. I hope this is Mark Few and the Zags maiden voyage to the final weekend.

3-XAVIER vs ARIZONA:
Xavierís deep run resume is exactly the same as the Zags (7 S-16s; 2 E-8s) but may be more impressive because they have rarely been given a top-tier seed and the easier road that comes with it. The Musketeers are a blue-collar bunch that have to be a thrill to follow on an annual basis. I like Sean Miller and Arizona but the program has been to the Final-4 on four occasions, played for the title twice and won the National Championship in 1997. If Xavier could pull off the upset and the Zags hold serve that would set up a real win-win in the West Region Final.
2-UNC vs. BUTLER:
This ranks ahead of the two matchups listed directly above because it is a hero vs villain setup. Iíve had quite enough of crying Roy Williams and his blue-blood pedigree and entitlement. Butler like Gonzaga and Xavier are really easy to pull for; the Tar Heels are not.
1-KENTUCKY vs UCLA:
Youíll have to forgive me. Iím a fossil so these two names are still purely magical.
TENNESSEE BASEBALL:
After an impressive pre-SEC run that saw the Vols enter conference play at 12-2 they quickly reverted to their old ways in league contests. It happened differently than I expected but the bottom-line results were no better. While I expected the Vols weekend starting rotation (Hunter Martin, Zac Warren, Will Neely) to struggle they actually acquitted themselves quite well. The bullpen -that had pitched so well- turned out not to be up to the task in the first weekend of SEC play. Garrett Stallings was handed a 1-1 tie in the 7th of the Friday night opener and was torched for 4 runs in an inning of work including two homers. Daniel Vasquez fared little better surrendering 5 hits and 2 runs in 1.2 innings. Stallings came in on short notice on Sunday after Neely was struck by a batted ball with the bases loaded and once again was rocked. It is an inauspicious SEC debut for a freshman that pitched so well when called on prior. Zach Linginfelter was better on Saturday but faltered in his 4th inning of work giving way to Jon Lipinski who walked and plunked in runs in the 10th inning.
Due to injury, the South Carolina starting staff was probably as vulnerable as they will be -and the Gamecocks left their closer at home as well- yet the Vols were unable to take advantage. You simply cannot be swept -especially at home- when youíre a program unlikely to make up the ground later with a sweep of your own. Itís hard to say that the third game of your opening conference series was a must game but you get the feeling that the Vols will never see .500 in league play based on the strength of the league and Dave Serranoís Tennessee programís history.
FOLLOW UP TO TONYíS HOPES FOR 2017 VOL FOOTBALL:
Tony had an excellent blog post on Wednesday (check it out if you missed it) listing 10 reasons he thinks the Vols make it to Atlanta this December followed up by a great discussion on the subject with the good doctor Sean Sinclair later that morning. While I donít share his enthusiasm I certainly do his hope and Iím not in the business of dashing someoneís dreams for kicks. With that in mind and spring practice in progress here are my quick reasons why Tony could be right .... or wrong.
WHY HE COULD BE RIGHT:
BETTER HEALTH:
I canít see any way that the Vols have the number of injuries they suffered in 2016 and certainly not to so many key contributors
BETTER STAFF:
The staff is constructed much better (full-time QB Coach, one major O-Line coach, a real strength coach, etc.) and should be more adept at instruction as well.
BETTER DEFENSE:
The Vols were close to making Atlanta last season while lugging along the second-most dreadful defense in my lifetime as a Vol fan. They will almost certainly play better on that side of the ball in 2017
SOLID O-LINE:
There's no better place to light the flame for a surprising season than up-front on the O-line. If they remain healthy the Vols could have one of the SEC's best.

MANY HAPPY RETURNS:
Evan Berry is a truly special talent when it comes to returning kicks. We missed that greatly after his injury.
SCHEDULE:
While itís not necessarily easier it is most certainly structured better for success. The Vols do have to travel to both Alabama and Florida but it matters not where you play the Tide and Tennessee proved they could hold the Gatorsí feet to the fire in Gainesville in 2015. They have the entire summer to prepare for Georgia Techís wacky attack while Georgia, South Carolina, LSU and Vandy all have to come to Knoxville. There is also no gauntlet with gimmees or an open date strategically placed before the Gators, Bulldogs and Gamecocks.
WHY HE COULD BE WRONG:
MISSED WINDOW OF OPPORTUNITY:
The SEC East will never be as vulnerable again as it was in both 2015 and 2016

REDUCED ROSTER:
The Vols still have players but the roster is not as strong as the ones Jones and company had assembled the last two seasons
INEXPERIENCED QBs:
Tony may be dead-on that Jarret Guarantano can be a dynamite playmaker but I doubt he will be as good as a redshirt Freshman as he will be a couple of years later. Besides Quinten Dormady may beat him out and if he doesnít Sister Maryís of New Jersey ainít on the schedule.
WEíRE BUTCHered
: Iím praying Iím wrong but I believe if you havenít seen it in four years, it ainít there. Butch Jones squandered two tap-in opportunities to make it to Atlanta the last two seasons then acted as if he was being persecuted when questioned about his teamís shortcomings. Many Jones supporters point to Dabo Swinney and a
ďyouíre too impatientĒ
accusing finger at those who are no longer Butch backers. The truth is Dabo DID IT in Year-4 winning 10 games overall, going 6-2 in league and winning Clemsonís first ACC Championship since 1991. While 10 or more win seasons are commonplace for Dabo, Butch has only two double-digit win seasonís in 10 years as a head coach (11-2, third season at C Mich; 10-3, second season at Cincinnati). Iím not saying winning big is out of the realm of possibility for Jones but Iím certainly not rushing to Vegas to bet on it.
FINAL FRIDAY THOUGHT: Enjoy the next couple of weeks folks. There are few if any on the sports calendar any better.