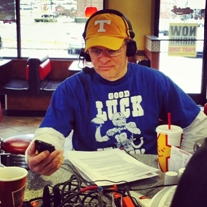 FREE THOUGHT FRIDAY
THIS WON'T "CURRIE" ANY FAVORS:
I wish I could say I am surprised that Tennessee, after an
exhaustive
-for their fans- search decided that John Currie would be the school's next Athletic Director. I'm not. I have come to expect the worst of all possible scenarios coming to fruition in any hire on the athletic side of the house. I gave Tony two names during a break on Monday's show and assured him that one of the two would be the next AD. My certainty stemmed from the fact that the bottom of my list of candidates is almost always in polar opposition to that of the powers that be. John Currie was the last guy mentioned with the job that I wanted to see hired. I've had zero personal interaction with the man but his surly reputation proceeds him and comes from too many credible sources to be anything but true. At a time when Vol faithful needed someone they trusted and believed in to navigate the department through what looks like rough waters ahead they have handed the vessel to Hollywood's version of Captain Bligh.
WRONG SKILL SET:
Currie has been lauded as a fund raising, facility improving, national media schmoozing, savant. The problem is those skills don't fit our needs. The issues here have been underachieving on the field and court and finding the right leaders to reverse that negative trend. We need a guy that can be an advocate for, an evaluator of and an astute hirer of coaches. Those -according to media members who closely followed his Kansas State tenure- are not his strengths.
MY WORST FEAR:
I am a 60-year old Vol fan that Lord-willing may have 15 healthy and lucid years of fandom left. I could easily see John Currie wasting 7 of those precious years.
MY HOPE:
During the greatest sustained run of football success of my lifetime Doug Dickey was Tennessee's AD. He wasn't exactly a peach of a guy either.
BOTTOM LINE:
I don't like the hire. I have little faith in the hire. But ultimately, I will judge John Currie on his coaching moves, the overall health of the athletic program and how relatively sanction and turmoil-free his programs are in the future. From an Athletic Director standpoint, nothing else truly matters.
VOL HOOPS:
LOOKING BACK:
SOUTH CAROLINA
-While the outcome was expected our shoddy level of play was not. We look like a team that hasn't practiced in a month
-Rick Barnes switch to a zone defense was a factor in getting the Vols back in striking distance in the first half. The Vols play it pretty well but can't effectively rebound out of it
-While hesitant to give up on younger guys I will be stunned if either LaMonte Turner or Kwe Parker ever prove to be effective SEC players
-That being said I think Barnes and staff need to allow Jordan Bone and Kyle Alexander to play through mistakes and develop because I do believe they will become good players.
-I know fans of other SEC schools despise Rocky Top but that piece of techno trash (Sandstorm) South Carolina plays adnauseam is hideous.
-The Vols did a nice job slowing down SEC POY candidate Sindarius Thornwell but unfortunately Duane Notice and PJ Dozier took up the slack.
-The challenge of losing John Fulkerson, Detrick Mostella and Jordan Bowden's absence due to illness has never been more evident than in recent games.
LSU
-After playing well offensively in the first half the Vols had an absolutely horrendous last 20 minutes.
-The Vols had won five straight games in Baton Rouge. Hard to believe the streak ended against a Tiger squad that had lost 15 games in a row.
-The Vols look as though they've given all they have to give. They look done.
-With the exception of the uncharacteristic 57% from the field in the first half it's been a while since the Vols shot or defended well.
-Barring a win over Alabama Saturday and a couple of SEC Tournament wins the NIT is probably a pipe-dream as well
-It was good to see Jordan Bowden back on the floor after a bout with pneumonia.
LOOKING AHEAD:
vs ALABAMA (Saturday 1pm):
Avery Johnson's Crimson Tide at 17-12 overall and 10-7 in conference -with the exception of Mike White's Florida Gators- seem to be the most upwardly-mobile of the SEC teams led by second-year coaches. The Tide has been poison for the Vols on the court winning six of the last eight contests and three of the last four in Knoxville. Bama has won their share of games without great statistical seasons by individual players. Braxton Key (12.3 ppg) and Dazon Ingram (10.4) are the only double-figure scorers while Bola Ilaniyan leads in rebounding with 6.5/game. Jimmy Taylor and Donta Hall have blocked 43 and 42 shots respectively.
SEC TOURNAMENT (TBA):
The Vols will probably need to overcome the bad history versus Alabama in order to avoid playing on the first night in Nashville. The way the team has looked coming down the stretch I wouldn't be surprised if their bags are full of swimming trunks and travel guides.
FINAL FRIDAY THOUGHT: Bring on the High School Sub-State basketball games and more spring training.