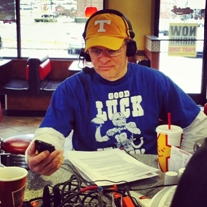 FREE THOUGHT FRIDAY
SLOW THE SHAME TRAIN:
Tony may have been prematurely critical of Rick Barnes -especially in the tone and relentless nature of his complaints- but now I believe heís become too contrite. After the Vols came out of nowhere to sit on the bubble of the NCAA Tournament, The Dean went so far as to have his daughter construct a dunce cap for him to wear on the
Smartway, Garza Law Firm Basketball Overtime
show. After chastising him for his early ragging of Barnes I have done a classic about-face urging him to pump the brakes on his Rick Barnes apology tour because the content of his original concerns were not far off. Only the way he presented them was questionable.
I really like what Barnes and staff has done with this yearís team. The Freshman class is much better than advertised and has responded well to his direction. Admiral Schofield has gone from the dog house to a valuable contributor and prior to his illness and injury issues Robert Hubbs was having by far his best season as a Vol. Even if this team falls short of the NCAA tourney and makes the NIT it will still be a pleasant surprise to me.
But I think Tony needs to pull back the reins on saying he was dead wrong and Rick Barnes has got it all working. Before he wears out a pair of knee pads begging forgiveness:
-Letís see how this team completes the season
-Letís see how the Freshman class develops going forward
-Letís see if we sign anyone in the spring that can be an immediate contributor next season
-Letís see if we sign anyone PERIIOD in 2018.
I love that Tony is a guy willing to say
ďyou know what, I was wrongĒ.
I think however he should be completely proven wrong before falling on his sword.
JAY BILAS FINDS THE TERM:
As Tennessee seemingly prepares to make Phillip Fulmer itís next Athletic Director I canít help but think ďonly at my UniversityĒ. Though Iím not on board with that decision I did want a Tennessee guy and think Fulmer has some attributes that will serve him well in the AD role. Only here however would we bypass an experienced, accomplished, Athletic Administrator that has paid his dues, longs for the opportunity AND is one of our own also, like David Blackburn and award the job to someone whose qualifications for the position are fairly non-existent. Iíve been searching for the correct adjective that accurately and adequately describes the poor handling and direction of University of Tennessee Menís Sports that the fan base has been forced to endure for well over a decade. I finally found what I was looking for in a tweet from ultra-talented ESPN contributor Jay Bilas. The word is
ďasininityĒ.
Now that is a damn fine word and perfect for our current state of affairs. Print up the tee-shirts right now; ďTennessee Menís Athletics;
Showing Our AsininityĒ.
WHAT COACH FULMER CAN DO:
On the surface, in most responsibilities required of an AD I believe David Blackburn would be more competent than Phillip Fulmer. One of our biggest areas of concern however is Butch Jones looks like he doesnít understand how to conduct yourself as the Head Football Coach at the University of Tennessee. Iím not talking about from an ethical or a behavioral standpoint which is probably a Jones strong point. Iím talking about handling the everyday pressures of dealing with the fans, media and ups-and-downs of the job. He needs an advisor. My guess is he would be much more apt to receive and accept that guidance from a guy whoís been there and has a National Championship ring on his finger.
VOL HOOPS:
LOOKING BACK:
GEORGIA:
-Iíve seen very few individual performances by an opponent in TBA as good as J.J. Frazier put on against the Vols Saturday
-Tennesseeís inability to stop opposing guards from driving all the way to the rack the last several contests has been disturbing to say the least.
-This teamís penchant to lose second half double-digit leads is one of the more frustrating things in recent program memory. A team that blows five or more leads of that nature in the course of a season is simply not NCAA-caliber.
-We simply donít have anyone with the game situation awareness, experience or talent to put the ball in their hands and say ďstop the bleedingĒ.
-A caller to the
Smartway, Garza Law Firm Basketball OT
made an astute point that Shembari Phillips and Jordan Bowden did a better job on Phillips when in the game together but neither can run the offense effectively from the PG position.
-No excuse for blowing that lead in a game that you only turn the ball over 5 times (Georgia had 11). Especially when none were committed by your guards AND you make 8 more FTs than your opponent
-Grant Williams had a terrific game by most any measure but it wasnít enough.
-A couple of great ironies occurred; first, the Dawgs actually benefited from Yaten Maten being in foul trouble. That opened up the lane with only one Dawg big on the floor and allowed Frazier room to slice and dice. The other oddity is this will be looked upon by the committee as a bad loss because somehow Mark Fox has taken a Top-4 team in the league and turned them into a bottom-feeder.
@KENTUCKY
-Admiral Schofield (17 pts, 7 Reb) looked to be the only one who wasnít in over his head in the Rupp Arena setting.
-The other bright spot was Jordan Bone who had 15 points on 5 of 9 shooting from the field and 2 of 4 beyond the arch. His 2 assists to 3 turnover line was nothing to write home about but itís difficult to ring up assists when your teammates -other than yourself and Schofield- shoot it at a 21% clip (7-33)
-The Vols were a frigid 3-16 (18.8 %) from beyond the arch while the Wildcats made 11 of 25 (44 %)
-Boneís (50-138, .362; 8-33, .242) nice game not withstanding until he, Jordan Bowden (69-186 .371; 31-102 .314) and LaMonte Turner (60-165, .364; 36-98, .367) start to shoot the ball better from the perimeter Tennessee will be as average as initially advertised.
LOOKING AHEAD:
The Vols now face a two-game home stand critical to postseason hopes. And Iím not talking about the Big Dance Iím speaking of the previously foregone conclusion NIT. The Vols can certainly play their way back into the NCAA discussion but dropping one of the next two at home and you may play your last game in the SEC Tournament.
vs MISSOURI (Sat 1 pm)
This one is non-negotiable. The Tigers are 2-11 in SEC play -though coming in
hot
having won two of their last four- and 7-18 overall. Mizzou has two double-digit scorers in 6-7 Sophomore forwards Jordan Barnett (13.1) and Kevin Puryear (11.5) followed closely by 5-11 Soph G Terrance Phillips (9.8). Puryear and Barnett are also the leading rebounders at 6.4 and 6.3 rebounds/game respectively.
vs VANDERBILT (Wed 6:30 pm)
The Commodores are on a real roller coaster ride as last weekís surprising 13-point road win at Arkansas followed by an equally-stunning 20-point road loss to Missouri indicates. The Dores would like nothing better than to jam a stick in the hated Vols spokes and send them hurtling off the path to postseason play. 6-5 Junior G Matthew Fisher-Davis (15.3), 7-1 Senior F Luke Cornett (13.5), 6-6 Jr F Jeff Roberson (10.9) and 6-2 Jr G Riley LaChance (9.9) are all capable of hurting opponents on the offensive end. With 250 3-pointers made Vandy leads the SEC by a wide margin in that category (Aub-222)
FINAL FRIDAY THOUGHT: Good luck to the baseball Vols in their opening series at Memphis this weekend.