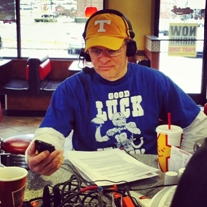 FREE THOUGHT FRIDAY
THOUGHTS ON THE NEW STAFF:
It appears that the restructuring of Butch Jones staff is complete. The hiring of Brady Hoke as Assistant Head Coach and Defensive Line Coach and Walt Wells as Offensive Line Coach make five (six including Rock Gullickson) total changes in a chaotic offseason. The two newest guys join promoted Offensive Coordinator Larry Scott, new Secondary Coach Charlton Warren and -God Bless America- full-time QB Coach Mike Canales. I have been justifiably critical of Butch Jones over the last several months but I have nothing but praise for how he has rebuilt his staff especially under less than ideal circumstances. Though uncertain how Scott will handle his first opportunity as an OC in the eat-your-own SEC, or wondering if Steve Stripling's sidestep was on his own accord, all of the other revisions check the box on what I thought had to happen. Full-time QB Coach? CHECK. New Secondary Coach? CHECK. Offensive Line under the tutelage and leadership of one constant voice? CHECK.
Butch Jones -though staunchly defensive publicly- obviously realized his staff needed an upgrade to meet the program and the fan's goals. I applaud that evaluation and how he was able to make it happen. Though I don't follow the recruiting process as closely as I should those who do assure me that this will be a better recruiting staff without sacrificing instructional ability. Kudos to Butch and hopefully it leads to better performance in the fall.
VOL HOOPS:
LOOKING BACK:
MISSISSIPPI STATE
-The Vols lost in Starkville in a role reversal of how they were successful in their 4-game winning streak. Mississippi State took 11 more shots; got 12 more offensive rebounds and turned the ball over four less times.
-Robert Hubbs was unable to step up his game enough to be the Senior leader this team needs on the road. He should score more than four points if inserted into an NBA game.
-The seeds of the loss were sown early when the Vols missed 7 of 10 FTs in a stretch of the first half which went a long way toward keeping the game within striking distance.
-Once the game got close Tennessee's offense went from efficient to stagnant like flipping a switch.
-Shooting 10-30 from the field sure didn't help either.
-LaMonte Turner simply has to start valuing the basketball regardless of the game situation. From the other side of the PG equation we won't win many games when Jordan Bone takes 15 shots.
-The Vols scored 59 against the Bulldogs; they scored 53 in the second half alone in Knoxville against State.

OLE MISS:
Not sure I've ever been so frustrated with first 35 minutes and so happy with the last 5 and the final result. The Vols NCAA dream was on life support before they sat up straight completely healed.
We may look back on Robert Hubbs hustle save that led to Grant Williams game-tying bucket and his four points that followed as the most important sequence of the season
Grant Williams has shown some Freshman frustration in his last couple of outings but at 6-5 he somehow turned into Manute Bol blocking seemingly every shot the Rebels took in the last couple of minutes.
LaMonte Turner drives me nuts handling the ball and trying to stay between his man and clear routes to the rack but he has a late-game toughness when it comes to making a big shot or a key free throw.
The Vols had no answer for Sabastian Saiz. Until Kyle Alexander becomes the player we saw against Kansas State more often they won't
It sure is nice to have a head coach with the gravitas to demand a home whistle. That's something that has rarely happened here.
LOOKING AHEAD:
vs GEORGIA (Sat 4pm)
The Vols and Bulldogs square off in their only matchup of the regular season in reversed roles than many thought we would see. Georgia was expected to be an NCAA Tournament prospect while the Vols were widely believed to be a league bottom feeder. The Dawgs (13-11; 4-7) have lost 6 of their last 8 -many in excruciating fashion- and are in peril of no postseason play at all. 6-8 Jr Forward Yante Maten (19.7 ppg) and 5-10 Sr Guard J. J. Frazier (16.0) carry most of the scoring load while Maten (7.2) and 6-8 Soph F Derek Ogbiede (7.1) lead Georgia in rebounding. It seems to be another critical hurdle for the Vols but if they pull off a sweep of the current home stand, finishing 3-3 with a win in the SEC Tournament will at the very least allow us to watch the NCAA Tournament Selection Show with hope "Tennessee" shows up on the bracket.
@KENTUCKY (Tues 7pm)
While on the surface this appears to be a long-shot at best -especially considering it would give the young Vols an extremely rare season sweep of the Cats- when you play an opponent that doesn't defend there is always a chance. Coach Calipari has a group that he's had trouble convincing to guard their opponent and share the ball with their teammates. They are still remarkably talented and capable of blowing visiting teams out of Rupp Arena. The Cats are once again led by a kiddie corps trifecta of 6-3 G Malik Monk (21.9 ppg), 6-3 G De'Aaron Fox (16) and 6-10 F Bam Adebayo (12.8, 6.9 rpg) and "old man" 6-3 G Soph Isaiah Briscoe
FINAL FRIDAY THOUGHT: It's February and the Vols are still in the NCAA picture? What a concept.