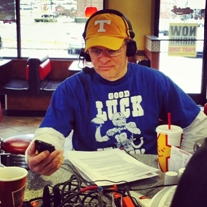 FREE THOUGHT FRIDAY
RECRUITING IN THE REARVIEW:
Tennessee football officially welcomed itís 2017 recruiting class on Wednesday which was luke-warmly received by both fans and media alike. Thatís not to say it canít develop into one of the better hauls of Butch Jones tenure for he -or whoever is at the helm- three years from now when the class can be accurately evaluated. We can always hope that similar to the current basketball freshman that their performance exceeds their rankings.
SILVER LININGS AND RED FLAGS:
With losses to South Carolina and Vanderbilt still polluting the minds of Vol Football fans everywhere and a recruiting class not highly enough ranked to restore faith the 2017 season could be one of the least anticipated in years. That being said look no further than this seasonís basketball team as proof that fan expectations -good or bad- do not define a season. I thought days after National Signing Day provides a good opportunity for an abbreviated look at both an optimistic and pessimistic look at the program heading forward:
SILVER LININGS: Here are my glass half full hopes
TEAM HEALTH:
Surely the Vols will not suffer two seasons in succession with an inordinate amount of injuries. A healthier roster should mean more consistent play on both the offensive and defensive lines and a healthy Evan Berry returns a special teamís weapon the level of which few teams possess.
DEFENSIVE REVIVAL:
There is absolutely no way the Vols can be as dreadful defensively as they were for the majority of 2016. It was the second worst defensive performance of my fandom ahead of only the disastrous Sal Sunseri experiment.
REAL STRENGTH AND CONDITIONING PROGRAM:
One of Butch Jones greatest missteps was relenting to player pressure and firing long-time Strength Coach Dave Lawson. Iím not sure it had anything to do with the rash of injuries suffered but it had everything to do with being one of the weaker Tennessee teams I have witnessed. The Vols consistently failed to get off blocks defensively or maintain them offensively and were also poor tacklers all symptoms of the greater problem. Rock Gullickson can hopefully quickly remedy the situation.
OTHER STAFF UPGRADES:
Though unconvinced Larry Scott is an upgrade over Mike DeBord I do believe he can be a solid leader of the offensive attack. Iím more upbeat over changes in the two slots I perceived as Tennesseeís greatest staff weaknesses; the replacement of Willie Martinez as Secondary Coach and hiring a full time QB Coach. Charlton Warren looks like a terrific hire and Mike Canales is more than qualified for his new opportunity.
MORE FORGIVING SCHEDULE:
Itís not that the full slate is any less demanding. With both Florida and Alabama on the road and LSU coming on as the Vols second West opponent you might make the case the overall challenge is greater. The way it lines up however is much more conducive to success. Gone is the four-game gauntlet that left the Vols both physically and emotionally depleted and help set in motion the season spoiling losses to South Carolina and Vandy that followed. The Vols have U-Mass (Sept 23) strategically placed between games @Florida and vs Georgia with an open date between Georgia and South Carolina which will both be played in Knoxville.
RED FLAGS: Here are the glass broken and stepped on barefooted fears:
WRONG DIRECTION ROSTER:
Butch Jones first recruiting class has come and gone without a true title of any fashion and difference makers Josh Malone, Derek Barnett and Alvin Kamara left early with them. I get the eerie feeling that Jones will never again have as strong a roster going forward.
CONTINUED ATTRITION:
I excused the steady stream of departures of Jonesí first few seasons as normal program growing pains. When it continues into Year-4 including a Junior a few yards shy of the all-time rushing record something is amiss.

FAILED OPPORTUNITIES:
Winning the SEC East hasnít exactly been a program birthright since the conference broke into divisions in 1992 and the opportunities to do so are precious. The Vols have blown solid opportunities each of the last two seasons and those failures seem to be poisoning the minds of the fans and potential recruits alike.
STRONGER EAST:
Kirby Smartís first full recruiting class indicates Georgia is on the upswing and Jim McElwain has guided relatively depleted Florida rosters to two consecutive SEC East flags. Will Muschamp is certainly not Steve Spurrier on game day but he is a better recruiter and for whatever reason has been a thorn in the Vols side while struggling with other SEC squads.
RECRUTING RECESSION:
After Top-10 classes in 2014 and 2015 the Vols are no longer the hot program on the recruiting trail. If you remove ďstellar recruiterĒ from Jonesí resume Iím not sure he stacks up all that well in other phases when compared to his SEC peers.
COACH ON THE BRINK:
Iím more concerned about how Butch Jones handled the seasonís adversity than I am that it occurred. His overly-sensitive, ďfans should appreciate what weíve doneĒ approach combined with his efforts to exit stage left if even close to the right opportunity presented itself screams heís a man in over his head. A man dissatisfied in his position will rarely perform at a high level.
VOL HOOPS:
LOOKING BACK: The Vols amazingly thrust themselves into the NCAA bubble conversation with three home wins in 8 days followed by an impressive manhandling of Bruce Pearlís Auburn Tigers in the Loveliest Village.
-Kyle Alexanderís performance against Kansas State was yet another encouraging sign that the Vols may somehow piece together an unexpectedly successful season. If he can continue to contribute at that level a post combination including Grant Williams and Admiral Schofield should be sufficient.
-In the first three victories of the Vols current 4-game win streak they got off 22 more shots than their opponents (189-167). This was accomplished by dominating the offensive glass (42-24) and committing 10 fewer turnovers (28-38) than Mississippi State, Kentucky and K-State.
-Auburn did take three more shots but that is misleading with the Tigers in scramble mode for the last 10 minutes as the Vols ran the shot clock nursing a big lead.
-I never seem to get comfortable regardless of how large the lead is due to surrendering big ones earlier in the season and relying on young point guards.
-As well as the Vols have played in the four-game win streak we must do a better job of handling the full court press and as much as I love how Sweet Lew Evans has played he doesnít need to be inbounding the ball against pressure.
-Tennessee was much better from the FT line than in recent outings making 22 of 27 for 81.5%
-The biggest stat advantages for the Vols at Auburn were making the same amount of threes as the Tigers (9) in 10 fewer attempts and 15 assists to Auburnís 7. The Vols also seemed to get every 50-50 ball.
-Someone on the
Garza Law Firm, Smartway, Basketball OT
made the astute point that for the third season in a row a senior has emerged as a go-to guy for Tennesseeís basketball team. Josh Richardson followed up his impressive 2014 NCAA Tournament with a switch to PG and led Donnie Tyndallís lone Vol squad. Kevin Punter made a similar transition for Rick Barnes first squad and Robert Hubbs is making his final year in a Tennessee uniform a memorable one.
LOOKING AHEAD: Itís a Magnolia State double-dip with the Bulldogs seeking revenge for the 17-point thrashing the Vols administered two weeks back while Tennessee seeks the same against the Rebels.
@MISSISSIPPI STATE (Sat 3:30 pm):
In the meeting in Knoxville two weeks ago, the Vols were able to shred a previously stingy State defense for 54 second half points on the way to a 17-point victory. Tennessee limited 6-4 Soph G Quinndary Weatherspoon (17.6 ppg.) to only 10 shots and 11 points. 6-10 Soph F Aric Holman averaging 10 ppg (at the time) scored only 4, 6-0 Freshman G Lamar Peters -now the Bulldogís second leading scorer at 12.1 ppg- scored 11. The Vols also outrebounded MSU by 14 (49-35) including a 10-board advantage (19-9) on the offensive glass. That type of domination should not be expected at The Hump even though the Bulldogs are coming off an embarrassing defeat to arch rival Ole Miss in Oxford. As a matter of fact, that is somewhat worrisome considering itís the same situation the Vols found themselves in immediately before embarking on the programís first four-game winning streak since who knows when.
vs OLE MISS (Wed 6:30 pm)
6-2 G Deandre Burnett (16.9 ppg) and 6-9 F Sebastian Saiz (15.8) will present and inside-outside challenge for the Vols with 6-4 Gs Terrance Davis (12.6) and Cullen Neal (10.1) also providing double-figure scoring for the Rebels. Davis torched the Vols for 20 points in the earlier meeting and Saiz got 15 but 6-7 F Justus Fermanavicius and 6-2 G Breein Tyree each scoring 15 points while averaging only 6.7 and 4.9 ppg respectively were the killers. Ole Miss outscored the Vols by 11 (42-31) in the second half and held Grant Williams to only 5 points while fouling him out a game that was quite frankly one of his and the Vols poorest efforts of the season.
FINAL FRIDAY THOUGHT: Anybody but the Pats. RISE UP! Go Falcons