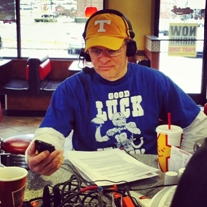 ON MY MONDAY MIND
QB THOUGHTS PAST AND PRESENT:
WHOEVER'S NEXT:
With Josh Dobbs completing his eligibility and new blood (or same blood, new role) filling both the Offensive Coordinator and QB Coach positions spring and fall football practices should be newsworthy for Butch Jones and the Tennessee program. Like most I believe Jarrett Guarantano is the favorite for the heir-apparent role and the best fit for what Jones -and it will still be Butch's offense- wants his attack to be. Unlike most I don't believe it is a slam dunk he starts Game 1 versus Georgia Tech due to the fact the slate is being wiped somewhat clean with the staff changes mentioned above…and Butch's decision making quirks. Regardless of who wins the job my hope for them is that they are less careless with the ball than Josh was at times last season and that they avoid suffering through a dreadful day as he experienced in Columbia, S.C. Other than that, if they'll just be Josh Dobbs I will be perfectly satisfied with our QB play.
PLEASE NO 2005:
I believe there will be a QB competition heading into 2017, be it real or fabricated. Besides the clear-the-slate process that many times accompanies major staff changes I think the Tennessee offensive brain trust will want to discourage Quinten Dormady from transferring and will use a potential starting opportunity as the carrot to keep him here. This can sometimes be a risky proposition however. Just ask Phillip Fulmer and Randy Sanders the dangers of holding a QB tryout. In 2005 Eric Ainge was returning from an injury suffered in his freshman season and the staff held a "competition" for the starting role between he and Rick Clausen. The problem was the guy they wanted to win the starting role was thoroughly outplayed by Clausen who had adeptly handled the role at the end of the 2004 season. The staff ignored practice results and handed the job to Ainge. The results were catastrophic as neither Ainge, Clausen or their teammates responded well to the decision leading to one of the most disappointing campaigns in Tennessee football history and the beginning of the end of the Phillip Fulmer era. My advice to the current staff is to heed the lessons of history and either name a starter immediately or let the best man truly win the job.
BUT I'LL TAKE 1984:
I hope my feelings on Tennessee's 2017 QB play mirror how I felt in 1994. I was a huge Alan Cockrell fan, much as I have been a staunch supporter of Josh Dobbs. Cockrell was tough and was a threat both running and throwing the football. Much like Dobbs he had also succeeded QBs who were not of the caliber I was accustomed to watching lead the Vol offense. I was extremely concerned about the position when Cockrell left early to pursue his baseball career. Then I saw Tony Robinson play. While still appreciating the contributions of Cockrell I knew beyond a shadow of a doubt a step forward had been taken at the position. That season I recognized the difference between very good and special. It wouldn't hurt my feelings a bit if Jarrett Guarantano -or Dormady- makes me feel the same in 2017.
VOL HOOPS:
I believe this is my first foray into the Hoop Vols this season and I'm sorry to be so late to the party. This has been a team that thus far has been far more competitive against a challenging schedule than I thought we would see from a team relying on so many young and undersized players. Unfortunately the record doesn't reflect it. We've scared a number of ranked opponents but haven't beaten any. Coach Barnes has coached both of his Vol teams up; the freshman class has a couple of players that outplay their recruiting service rankings but more talent and size will be required to move from a horse shoes and hand grenades program to a regular tournament participant. Here are a few blurbs from the last two games:
-The Vols loss to Arkansas at home Tuesday was one that we will likely look back on as a very damaging setback from a postseason standpoint
-Poor shot selection and an end of the first half collapse were the culprits
-Defense -which until Saturday night had been a strength- travels. Unfortunately the Vols left theirs in Knoxville when departing for Gainesville
-I love Grant Williams but for the first time he played like a 6-5 post player versus the Gators. For most of the season he's played closer to 6-9
-The Vols primary ball handlers need to get much tougher with the ball and play better on-ball defense against the opponent's PG
-I believe one of Jordan Bone, LeMonte Turner or Kwe Parker will one day be a solid floor general for the Vols. That however is unlikely to occur this season.
-Hopefully the free pass to the bucket we were handing out in Gainesville won't be as prevalent going forward.
-Admiral Schofield played his best game of the season (double-double 18 pts 10 reb) Saturday night. Wish that would be a more common occurrence.
-Jordan Bowden bounced back with a solid performance versus the Gators (5-8; 3-5; 2-2; 15 points) after being MIA for the first two SEC games.
COLLEGE FOOTBALL CHAMPIONSHIP GAME:
With the glut of coverage no reason for me to tell you less than you already know. Though I believe Alabama will win their 5th championship in the last 8 years it sure would be nice to see Clemson knock them off. Seeing a new face/uniform hoist the trophy would be good for the game
and for my mental health
. Besides I actually like Dabo Swinney.
NFL PLAYOFFS
-The Texans scored 3 TDs against the Raiders in this season's first NFL playoff game. The only time they did that during the regular season was against my Colts dreadful defense.
-Still hate that Derek Carr got hurt in garbage time against the Colts. The Raiders season was for all intents and purposes over when that occurred.
-Seattle -like the Steelers- has an instilled toughness in their organization that suits them well at playoff time
-Ben Roethlisberger is one tough son of a gun. There are very few QBs of recent vintage that I would rather have in a big game.
-Matt Moore exhibited some Big Ben toughness sitting out only one play after getting nearly decapitated. That NFL concussion protocol must be a really thorough exam if he can be standing next to his head coach with his helmet on begging to be reentered before a single play is run.
None of the four playoff games this weekend were competitive. Next week -other than the Pats throttling the Texans- I bet they're all good.
I love how the NFL handles halftime. As Will Overstreet once told me, you barely have time to eat an orange in the locker room before going back out onto the field.
MONDAY MUSING: Sure looking forward to the forecasted warmup. If I wanted to live in Minnesota that's where I'd reside.