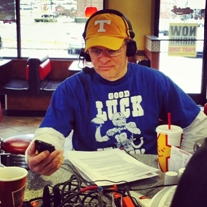 FREE THOUGHT FRIDAY
UNITS THAT CAN JUMP IN 2017:
With 2016 in the rearview mirror itís time to look at areas of concern for Tennessee Football that are likely to improve in 2017. If there is anything good that comes out of an underachievement it is usually the increased prospects for improvement. Here are the areas I expect to see take a step up:
OFFENSIVE LINE:
With the only expected defection being the graduating Dylan Wiesman the Vols return one of the most veteran units in the SEC. Drew Richmond appears to be taking small steps of improvement and could take a leap under a real Strength and Conditioning coach. Also, donít count out Trey Smith becoming the rare freshman O-Lineman to start from day 1. The unit hopefully benefits from a less injury-plagued season and instruction from a single voice both of which are likely to improve continuity.
DEFENSIVE LINE:
Iím not sure that Shy Tuttle will ever be healthy enough to reach his obvious potential or that Khalil McKenzie ever had a very high ceiling to start with but there is no question the Vols missed both terribly. The DT rotation shouldnít be hit so drastically with injury and suspension issues in 2017 which may alleviate many of our issues stopping opponentís most basic running play. Though it will be very difficult to replace Derek Barnettís pass rushing prowess Kyle Phillips, Darrell Taylor and Jonathan Kongbo all have high ceilings.
LINEBACKER:
Iím not sure anyone on campus has Jalen Reeves-Maybin field or leadership skills but Darrin Kirkland Jr. and Colton Jumper have both played solid minutes and between Daniel Bituli, Quarte Sapp and Cortez McDowell enough outside help should be available and ready
SECONDARY:
Could this unit be any worse? Bad angles, poor tackling, no skills with the ball in the air and poor communication. I canít think of one thing this group did well. Whoever our next secondary coach is will be better than Willie Martinez and will likely be astute enough to get Marquill Osborne and Nigel Warrior ready to play and on the field if not ballsy enough to use Tyler Byrd and Jauan Jennings at times as well.
OVERALL DEFENSE:
This is a Captain Obvious take since I have listed every defensive unit above. There is simply no way our defense can be totally wretched two seasons in a row.
RETURN GAME:
If Evan Berry stays healthy look for our return game to be more like 2015 than 2016.
PLACE KICKING:
11-16 and only 3 of 7 from beyond 40 yards? The late, great, Paesan could have walked out on the field from the upper deck at 60 years old, tied up the flat toe and kicked it Mike Moseley style better than that.
STAFF
: Mike DeBord was much better as an Offensive Coordinator than I thought he would be especially in the running game. The passing game however is elementary at best and his replacement will almost certainly upgrade our QB development ability. A proven Strength and Conditioning coach has already been hired and a real Secondary Coach should be close behind which canít help but improve our overall play. While we're at it there is simply no way that Bob Shoop went from a sought-after defensive guru to Sal Sunseri overnight.
ATHLETIC DIRECTOR: Though Iím skeptical our AD is in place in time to help Butch with the needed staff changes I do believe the opportunity exists to have one in place by Georgia Tech.
NFL PLAYOFF TAKES:
-A 4:30pm Saturday start is the perfect slot for Oakland at Houston which might be the worst NFL playoff matchup in history. The Texans are there ONLY because they are a member of the weakest division in NFL history and the Raiders unfortunately are starting a third string QB (once again my apologies to Raider Nation for Derek Carrís injury versus the dreadful Colts).
-Both NFC Wildcard games are very intriguing with Detroit visiting Seattle (Sat 8:15 pm) and especially the Giants versus the Packers in Lambeau (Sun 4:40 pm) field. That could be one of the best WC games ever.
-It wouldnít surprise me if the winner of Giants-Packers -the 4-5 game- makes it all the way to the Super Bowl.
-The Patriots -who need little help- will likely get the Raiders-Texans winner in the Divisional Round which is essentially the closest thing to a two-round bye you can receive.
FINAL FRIDAY THOUGHT: Bundle up and have a great weekend.