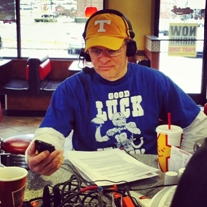 ON MY MONDAY MIND
LAST TAKE ON JOSH DOBBS:
Frequent listeners to the
Tony
Basilio Show
or the
Smartway, Garza Law Firm
5th
Quarter
know that Tony and I have been engrossed in a long-term, passionate debate over Josh Dobbs passing ability -or lack thereof- and its effect on the Vols offensive efficiency and championship hopes. It's a worthwhile conversation and one that I believe is occurring daily among Tennessee faithful with strong representation on both sides of the issue. I feel that Tony and his supporters are hyper-critical of Dobbs alleged passing deficiencies and those who agree with him feel Dobb's defenders are hyper-sensitive of any criticism directed his way more due to the type person he is as opposed to the player he has developed into. I think there is
some
truth to both schools of thought.
I have never shied away from the fact that Josh must bear his share of the burden for Tennessee's disappointing season due to a dreadful performance at South Carolina and his carelessness with the ball at other critical junctures. There is no denying that he failed to lead his team to Atlanta in either of his two seasons as a full-time starter. I just think we sometimes hold him to an unreasonable accuracy standard. In a system that demands a quarterback to be a running back as well, modern era signal-callers are not going to display the accuracy of those that played in a time that they were only required to hand the ball to a RB or stand in the pocket and deliver the ball to receivers.
Josh Dobbs' Tennessee career came to an end Saturday and so did my involvement in the debate going forward. The last thing I will contribute on the issue is I hope one year from now I am apologizing to those who held the opposing viewpoint and joyfully admitting that the Vols offense operated more efficiently with Jarrett Guarantano -or knowing this place- Quinten Dormady under center than it was with Josh and that a much happier end to the season is realized because of it.
FAB-5 FREDDY'S LAST WORD ON JOSH:
Brother Fab-5 Freddy contributes these amazing numbers on Josh Dobbs:
I thought you might like these career rushing stats. We remember guys as
runners who really weren't:
Streater 1374
Condredge 966
Tee 614
Heath 383
TRob 195
Dewey 162

Peyton and Casey both ended up in the negative

Josh ended up with 2160 which is more than Condredge/Tee/Heath/TRob
combined.
Josh's career yardage (rush and pass) is more than Tee and Condredge combined. Personally, I put Josh in top 3 all-time Vol QBs with Peyton light years ahead.
Last point: Whether one believes in the stats are not, if you lead the SEC in touchdown passes, passing efficiency and points responsible for like Josh did this year you are a doing a fine job at QB
TENNESSEE-NEBRASKA THOUGHTS
-It was wonderful to see all the seniors and early-departures end their Tennessee careers on a successful note. Regardless of our disappointment these young men chose to be Vols at an all-time low period in program history and left it in much better shape than they found it.

-Nebraska's offensive line had allowed only 12 sacks all season coming onto the Music City Bowl. Kudos to the Vol D-line who needed little help to increase that total to 16 and constantly harass Ryker Fyfe from pillar-to-post

-Josh Dobbs was simply terrific. If not for a couple of drops he would not only have run for three TDs he would have passed for three as well.

-I feel badly for Nebraska faithful. Not only has their program chosen self-exile in the Big-10 but they can no longer run the ball with any efficiency either. They are a program without a country or an identity. That classy fan base deserves much better.

-Nebraska's attack was devastated by injury but there is no question that a month to rest and heal aided Tennessee's defensive effort. The Vols tackled much better and had a lot of hats around the ball regardless of who had it for the Huskers

-Tennessee's secondary is abysmal. Other than Todd Kelly Jr and Cameron Sutton we are devoid of skills when the ball's in the air in our back 5. We either aren't recruiting the right guys or aren't teaching those we have proper technique. We better put some football players back there -aka Tyler Byrd- and do so right now.

-Josh Malone put the cap on a really solid season. If he wants to go to the NFL I fully understand and support that decision. Selfishly I hope he stays one more year.

-Dylan Wiesman was a man possessed in his last game as a Volunteer. He was blocking everything that moved even if they were wearing the same uniform as he.

MORE BOWL OBSERVATIONS:
-The SEC recovered nicely over the last several days after an ugly 1-4 start to the postseason. Tennessee was impressive in a game they turned out being heavily favored in; Georgia surprised TCU; LSU overwhelmed Louisville and Alabama kept rolling against Washington. Kentucky on the other hand..well they were Kentucky.
-The Orange Bowl has to be thrilled with the display that Florida State and Michigan put on in Miami. It was a classic matchup between traditional powers, led by charismatic coaches, with several late-game lead changes that was really fun to watch. These type matchups enhance my belief that an 8-team playoff would be a true spectacle.
-After losing 3 of 4 games between September 30th and October 22nd David Shaw's Stanford Cardinal regrouped nicely finishing the season on a 6-game winning streak including a bowl win over North Carolina in my favorite setting at the Sun Bowl. I've never been but it looks beautiful on TV.
-As Friday came to a close the underdogs were still ruling the roost. Dogs were 21-12 vs the spread and had won 15 of the 33 bowl games played straight-up. Saturday the trend took a dramatic turn with 3 of 4 favorites winning and exceeding the number.
MONDAY MUSING I hope 2017 is a healthy and happy year for you and yours.